ECC82 Regenerative receiver
This is a simple two-triode regenerative receiver for CW reception on the 40 meter band. While the basic design is from the 1920s, I do use (relatively) modern components: a single ECC82 (12AU7) dual triode, an T50-6 iron powder toroid for the coil, and miniature audio transformers. A single 12.6V source is reqired, of which 300mA is used for the tube heaters and a few microamps for the regenerative detector and audio amplifier stages.
In spite of its simplicity, the receiver does a good job of receiving CW and, to my surprise, is even stable enough to receive narrow-band FT8 traffic! See below for details.
Recordings
FT8 and WSPR experiments
Can modern narrow-band digital modes be received and decoded with a bare-bones vacuum tube regenerative receiver, using a free-running VFO at 7 MHz and an antenna coupled directly to the tuned circuit? I didn't have much hope for this, but it turns out that yes, it's possible!. After letting the receiver stabilize for an hour or so, WSJT-X is able to decode nearly all of the FT8 traffic present as well as occasional WSPR.
Schematic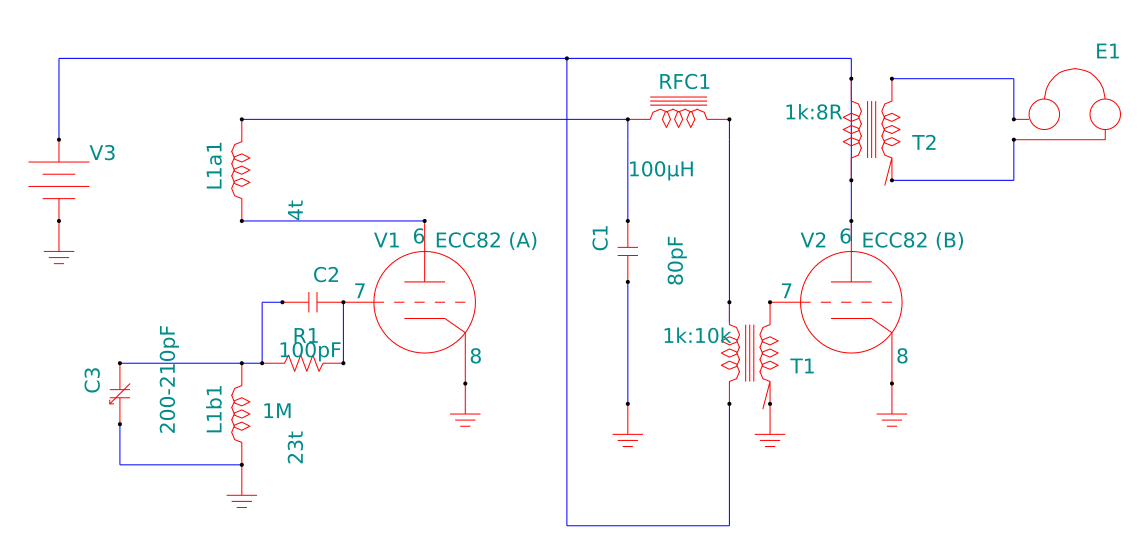 L1a and L1b are wound on a T50-6 toroid, L1a is the tickler toil (4 turns) and L1b (23 turns) is part of the tuned circuit.
C3 is composed of 100+100pF in parallel with an old air variable in series with 1+10pF. All fixed capacitor are NP0. This gives a tuning range of about 7000-7050 kHz, with slower tuning rate at the bottom of the band.
Not shown in the schematic is the antenna input, which is coupled by 2 turns on the L1 toroid.
C1 is the throttle capacitor and can be made a variable, but since regeneration generally does not have to be changed in a narrow frequency range in autodyne mode, I replaced it with fixed capacitors (33+47pF).
---
Home |About me |Chinese |Research |Software |Electronics |Radio
---